About us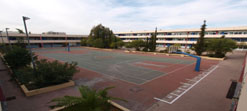 Location - History
The 1st Junior High School/1st Secondary School of Galatsi lies on the border of the Municipality of Athens and the Municipality of Galatsi. Galatsi a Municipality in the northern section of Athens, the historical capital of the Hellenic Republic, with good access to the capital's historical monuments. Compared to the Municipality of Athens (800,000 inhabitants), the Municipality of Galatsi has a population of almost 80,000 inhabitants, with 17 Primary Schools (6-12 years old) and 13 Secondary Schools (12-18 years old). Of the Secondary Schools 6 are Junior High Schools (12-15 years old), 4 Senior High Schools (General Lyceums) (15-18 years old) and 3 are Vocational Schools (15-18 years old).
The 1st Junior High School of Galatsi is the school with the longest history in Galatsi.
The 1st Senior High School of Galatsi (15-18 years old) is also housed in the same building as the Junior High School. Last year it had the highest rate of success in the Panhellenic Examinations for entrance in the highest education of all schools in Galatsi as well as schools in neighbouring areas of the Municipality of Athens.
Teaching stuff - S
t

udents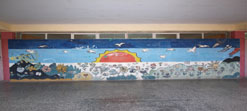 The 1st Junior High School of Galatsi has 200 students distributed in 9 classes in three grades/in the 1st, 2nd and 3rd grade respectively (12-15 years old).
The permanent teaching staff is made up of 20 teachers whereas 7 more teachers teach part time in our school as well as in other schools.
Members of the teaching staff in cooperation with the Parents Association implement admirably the basic core of the modern educational perception which focuses on the triptych teachers-students-parents.
Our school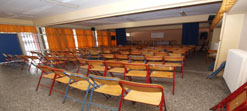 As you can see from the photographs there are laboratories for natural sciences, computer studies, technology as well as a well-equipped gymnasium for Physical Education. The school is also in the process of creating a modern workshop for the teaching of the English language.